Skamania Lodge • Stevenson, WA
---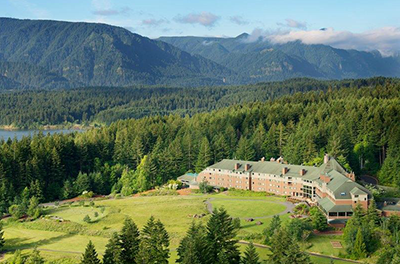 Photo courtesy of The Skamania Lodge.
We are pleased to hold this year's Northwest Climate Conference at The Skamania Lodge, which offers exceptional meeting space and accommodations for our conference.
To reserve your room, please contact Skamania Lodge at (800) 221-7117 and identify yourself as a participant of the Northwest Climate Conference, or reserve online by using the "Book Now" button and select the "Promo Type" of "Group Code" enter group code 1XY0XX to receive the special conference rate of $149, plus a $17 lodge fee per night. These rates are subject to Washington State lodging fees and taxes.
Directions to Skamania Lodge
NOTE: We will run a shuttle from PDX to Skamania. Stay tuned for details.
---
Questions? Contact Kathie Dello, kdello@coas.oregonstate.edu
---
Twitter: #nwcc2016
See information about past conferences here:
2015, 2014, 2013, 2012, 2011, 2010.
Background image provided by Pinchof2.0 [source, cc licence].